Description
Easy to use texturiser for shaping pureed food, meat, vegetables and fruits
Smoothfood Gelea Cold is an easy to use innovative food product for use in catering within the healthcare sector and for care of patients at home, creating texture modified shaped food that looks attractive, tastes appealing and resembles the appearance of the intended food.
A smoothfood menu is based on the fresh foods you have available in your kitchen. These are changed in structure and texture, mashed or pureed
Thanks to the powerful texturizers, the pureed food can be produced with little effort. The finished product consists exclusively of the pureed food, which is mixed with liquid and our texturizer. The taste and ingredients are largely retained. This again results in dining with dignity and enjoyment in eating and thus ensures a high-quality, tasty and balanced diet for those affected.
Individual shapes are possible and consistency can be adjusted according to the type of modified diet required- Almost all types of food can be turned into a shape at the required IDDSI level.
With the current increase in food prices it is important to eliminate wastage. Gela Cold enables all leftover cooked food to be easily transformed into tasty, texture modified dysphagia meals. ideally using the smoothfood silicone moulds. They can be the left in the freezer to be used as you need, only re-heating what you require at the time.
Benefits of using Gelea Cold
Suitable for meat, vegetables, fruits
Fast and easy preparation
Retains 70% of base food – high nutrition values
No cooking necessary
Moulds food to any shape
Lump free
Maintains shape, colour and flavour
Freeze – thaw stable
Heat stable >100°C
Cost effective
Reheat up to 100°C in steam or convection oven
Easy to prepare:
Stir in GELEA cold instant according to the dosing table, pour into moulds and freeze.

Ingredients: Maltodextrin, gelling agent methyl cellulose (E461), gelling agent iota carrageen (E407), thickening agent xanthan (E415) and guar gum (E412), gelling agent agar agar (E406), alcium lactate (E327)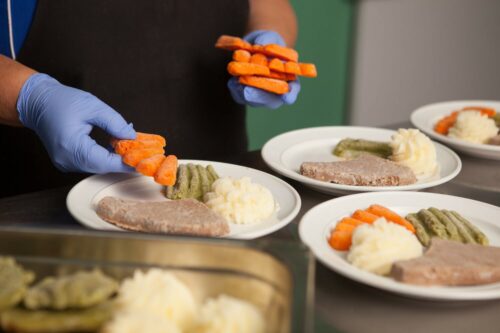 Recipe for spaghetti using Gelea instant cold and the smoothfood spaghetti mould
| | |
| --- | --- |
| Ingredients | Spaghetti |
| 500 g | Pasta (cooked) |
| 300 ml | Cold water |
| 30 g | Parmesan (grated) |
| 200 ml | Vegetable Oil |
| 40 g | GELEA cold |
| Salt, nutmeg | To taste |
Preparation & Cooking Instructions
Blend the cooked pasta, water, oil, parmesan and seasonings to a very fine puree for 5 minutes. Use of a machine blender is recommended
Add the GELEA instant cold and stir in for 20 seconds.
Spread the mixture into the spaghetti food mould and place in the freezer until completely frozen.
Remove from freezer and place food onto a suitable oven tray.
T0 heat the product use a combi steamer at 100°C with 50 %  steam for about 12-15 minutes depending on the required core temperature.
Serve with main meal.