Description
Smoothfood SPUMA instant
Fast and simple production of stable food foams
Quick and simple to make with a cream whipper or an electrical blender
For hot and cold foams (up to 60°C)
Neutral taste, suitable for adding to various foods
Complete meals prepared as stable food foams:
Breakfast, salads, vegetables, meat, milkshakes, evening snacks
Amylase resistant
Vegetarian, vegan; gluten, lactose and allergen free
Ingredients: maltodextrin, methyl cellulose gelling agent, xanthan thickening agent
SPUMA instant is an innovative food product for use in catering, homes and for care patients at home. With SPUMA instant, many different types of food can be transformed into a soft creamy foam which – thanks to its enlarged surface – optimises the taste. SPUMA instant is the first product which makes it possible to produce stable foams quickly and with up to 50% oil content.
Instruction: No preparation needed, powder can be added directly and dissolves immediately. Foams can be made with a whipped cream dispenser or an electric mixer.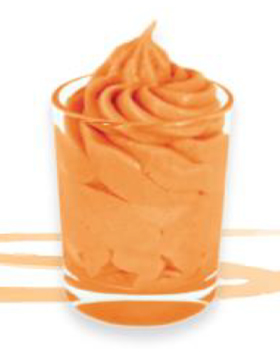 Recipe example: Breakfast as a foam
200 ml      Cream, 30%
250 ml      Milk, 3.5%
70 g          Apricot jam
40 g          Sugar
8 g*           SPUMA instant
* 1 measuring spoon = 4 g
Preparation: Using a Cream Whipper
Puree all ingredients and put through a sieve
Put all ingredients in a cream whipper (0.5L) and add SPUMA instant. Shake the whipper  well until the powder is completely dissolved, charge with 1 – 2 cream whipper bulbs
Leave to stand for 5 – 10 minutes and then serve.
Preparation: Using an Electric Mixer Blender

Puree all ingredients and put through a sieve
Put all ingredients into the mixer and add SPUMA instant.
Whisk the mixture for around 10 – 15 minutes minutes at the highest speed to produce a cream-like texture then serve