Catering for dysphagia
People with dysphagia may need specific support to help them stay safe with their eating and drinking and to retain pleasure in mealtimes. Care caterers are uniquely placed to help this process.

The goals of nutrition management should be:
To maintain and ensure adequate nutrition and hydration
To implement the correct and safe texture modified diet
To maximise nutritional intake while maintaining safe eating
To maintain please in eating and drinking
Our range of solutions…
A wide range of foodstuffs can be used to modify the texture of meals to make them suitable for residents suffering from dysphagia. Consider using full flavoured sauces for blending, such as gravy instead of water to avoid compromising the flavour of the dish. Foods that need thickening can be achieved by adding commercial thickeners or instant potato.
Gelea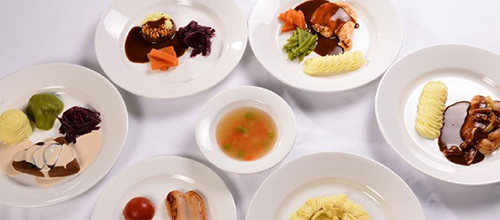 Presentation is key to whetting the appetite and Gelea from Biozon provides and innovative approach to enable you to create texture modified meals that resembles the original food. It is a gelling agent which, when added to fresh ingredients, allows you to create healthy and flavoursome food without any aftertaste or unusual mouth feel.